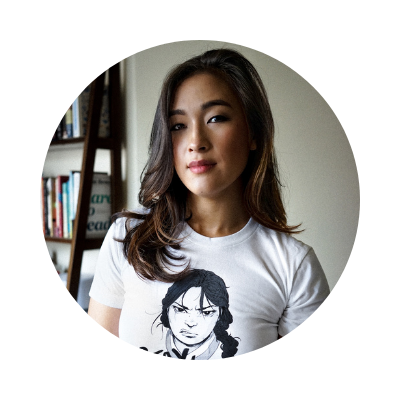 About Liz Kleinrock
Liz Kleinrock is an anti-bias and anti-racist educator and consultant who is based in Washington, DC. She is a transracial adoptee who was born in South Korea and grew up in DC. She then attended the Washington University in St. Louis, MO. After graduation, she moved to Oakland in California, where she served as an AmeriCorps teacher with Girls Inc. and Super Stars Literacy for two years. She then moved to Los Angeles and after spending a year student-teaching a 5th-grade class in Watts, she joined the founding faculty of a startup school in East Hollywood teaching 1st through 4th grades.
In addition to her keynote presentations, Liz Kleinrock is available for professional development and training customized to student's needs. Her goal is to make social justice education both accessible, meaningful, and relevant to everybody.
Liz has collaborated extensively with colleagues across schools, grade levels, and districts, and she currently leads professional development for her school staff within fields relating to diversity, equity, and inclusion. Furthermore, Liz Kleinrock has both developed and led parent and family education workshops on social and emotional learning, and the importance of discussing race and race issues with children.
You can learn more about Liz' work on her website, TeachAndTransform.org, on Twitter at @teachntransform, or on Instagram at teachandtransform.
Books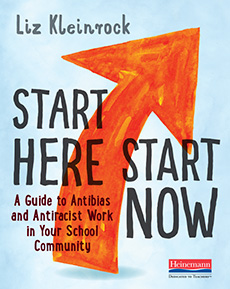 Most educators want to cultivate an antibias and antiracist classroom and school community, but they often struggle with where and how to get started. Liz helps us set ourselves up for success and prepare for the mistakes we'll make along the way.
Each chapter in Start Here, Start Now addresses many of the questions and challenges educators have about getting started, using a framework for tackling perceived barriers from a proactive stance. Liz answers the questions with personal stories, sample lessons, anchor charts, resources, conversation starters, extensive teacher and activist accounts, and more. We can break the habits that are holding us back from this work and be empowered to take the first step towards reimagining the possibilities of how antibias antiracist work can transform schools and the world at large.
We must remind ourselves that what is right is often not what is easy, and we must continue to dream. Amidst the chaos, our path ahead is clear. This is our chance to dream big and build something better.