Building Our Leaders of Tomorrow (BOLT)
Sunday June 23rd – 26th, 2024 at Walt Disney World Resort
An unforgettable leadership program with students from around the country, using the Walt Disney World® parks as a magical classroom!
The Pegasus Springs Education Collective presents 'Building Our Leaders of Tomorrow' (BOLT), a leadership program for students grades 6-12.
The BOLT education team uses the Walt Disney World Parks and the Coronado Springs Resort as living classrooms for leadership development. Focusing on the key question of "How does a leader make a positive impact?", students will learn the building blocks of leadership and return to their schools and communities empowered to make a difference.
The BOLT programs are designed to build upon each other as students return each year to expand their learning and leadership skills. Whether your child is just starting out in one of our programs or has been returning for many years, the Pegasus Springs staff brings innovative, creative, leadership building opportunities to your child in the most magical place on earth.
The BOLT Leadership Program at Disney is designed for students in 6th- 12th Grades. Your student will participate in one of our two levels: Middle School or High School. The daily schedule and select programs will vary slightly per the grade level of the student attendee. However, a typical program concludes around 3:00pm each day allowing groups and families time to enjoy the parks together.
2024 Overview Agenda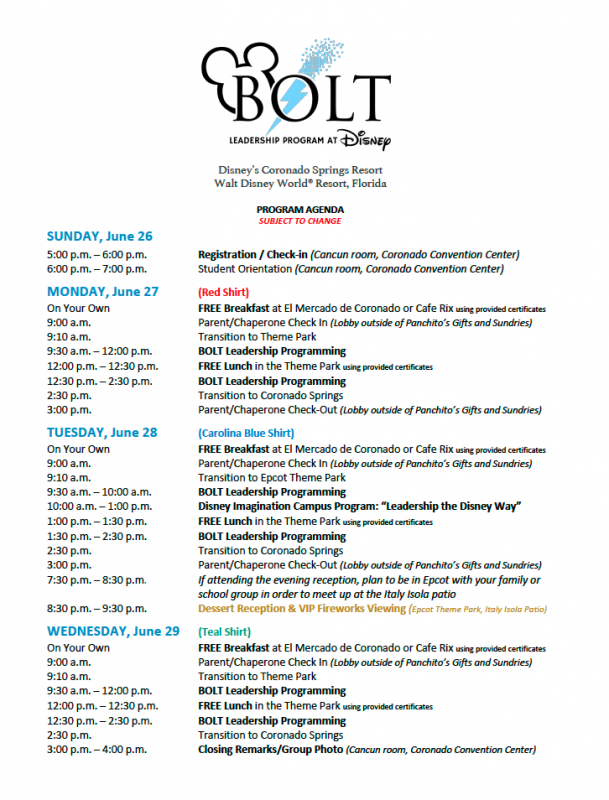 "The BOLT program isn't just a trip to Disney World, it is a thoughtfully constructed and expertly facilitated leadership experience. Our son was the youngest student in the group and he was transformed by it. He went from quite nervous and unsure to confident – both in himself and his ability to try new things and his capacity to build strong relationships. When he got home we joked 'Who is this kid?' as he proudly announced that he was ready to try other new things because he is a 'BOLT kid.' People talk a lot about the magic of Disney, but in our family we talk more about the magic of BOLT!"

– Parent of a BOLT participant

About BOLT Student Leadership Program at Disney
The BOLT Student Leadership Program at Disney is open to students in grades 6-12. The program utilizes the Disney theme parks as an engaging and magical classroom to explore the importance of student leadership in and out of the classroom. The BOLT experience also includes a "Disney Imagination Campus" experience that offers imagination-powered learning behind the scenes at one of the Disney theme parks.
The overall goal is for students to develop or expand their own leadership skills, to increase their own collaboration and communication skills, and to experience how to use their own voice to make a positive difference in their communities and in their own education.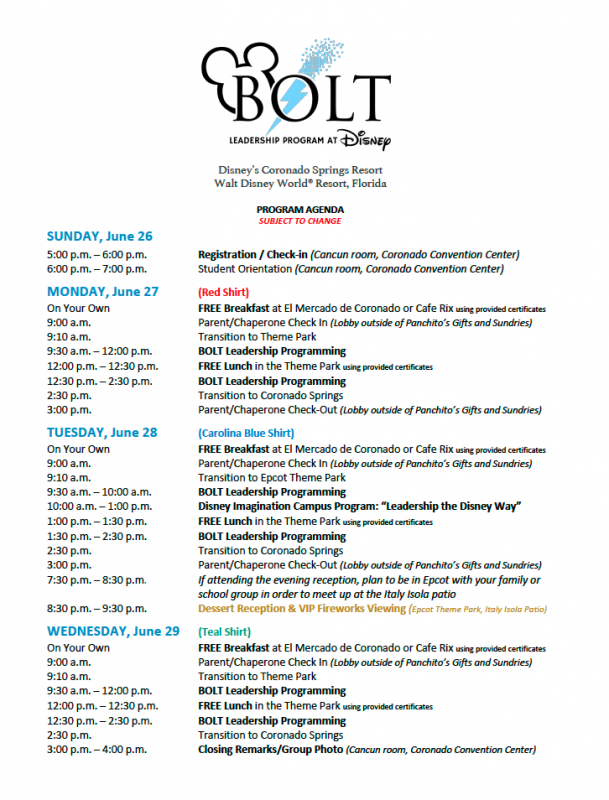 Disney Imagination Campus
As a participant in the Building Our Leaders of Tomorrow Programming, our students will have an opportunity to participate in one Disney Imagination Campus program. These guided, in-park field studies are accredited, standards-based, and designed to reinforce our leadership lessons.
Disney Imagination Campus' curriculum shows students, teachers, and parents how something called Imagination Powered Learning can make a lasting impact on how students feel about learning, and about their own potential.

Through a comprehensive collection of workshops, Disney Imagination Campus is committed to helping students learn how to apply their imaginations to solve many of the challenges they may face throughout their lifetime – in wildly creative ways. Disney Imagination Campus believes that new perspectives, creative thinking, fearless exploration and unfettered wonder can lead to amazing things.
Each student registration includes:
3 Day Park Hopper Pass ($550 value), Option to upgrade to a 4-Day Park Hopper Pass

Breakfast

Lunch certificates are provided for each day of the program ($100 value).

1 Disney Imagination Campus Program.

3 Days of BOLT Leadership Programming.

3 BOLT T-Shirts.

Certificate of Completion.

One FREE pass to our private EPCOT dessert party and VIP firework viewing ($100 value). Option to add passes to this private event for families will be available.
Option to add one discounted 3-day park hopper per student registration (savings of $100).
Special rates of $219 (Non-Tower) or $269 (Tower) per night at Disney's Coronado Springs Resort. You can book your rooms here to take advantage of our group rate.
Forms and Health/Safety Information
Please visit our BOLT Student Leadership Program Important Healthy/Safety Information page for more on our health and safety information and to access important forms that must be filled out prior to the program.
Other Information for Attendees
Airport Transportation:
Disney's Magical Express, the free shuttle to and from the Orlando International Airport stopped service in 2022. At this time, we are not able to provide transportation to and from the airport. However, Mears Transportation, the company who runs Disney's Magical Express is offering similar service to and from MCO. You can learn more here.
Park Transportation:
From Coronado Springs resort you can take a Disney bus to all of the parks as well as to Disney Springs where there are additional dining, entertainment, and shopping options.
Disney MobileMagic Service:
Disney MagicMobile service is a contactless way to access MagicBand features like theme park entry through the power of your iPhone, Apple Watch or other smart device. Guests will be able to create a Disney MagicMobile pass through the My Disney Experience app and add it to their smart device's digital wallet. It works like magic – most features will be available by just holding up your smart device near an access point, just like you do with a MagicBand.
Park Hopper Passes:
We will be ordering your park hopper passes through our group program. Once those tickets arrive we will scan and email you copies. From there you will be all set to begin scheduling your fast passes for rides.
Planning the Day:
We suggest you download the My Disney Experience app to your phone for ease of planning and tracking dinner reservations, etc. We will have your child(ren) from about 9:00am-3:00pm every day. Students should arrive to the check in each day having already eaten breakfast using the provided certificates. During the program, students will each lunch in the park with their fellow students and BOLT educators. Parents/chaperones will not be with students in the park during the BOLT programming, so you will have time to enjoy the resort,  parks, resort amenities, or shop on your own. 
Students will be released to parents or chaperones each day after the programming has ended. BOLT staff are not responsible for your student(s) after the BOLT programming has ended.
Feel free to reach out to Stephen MacDonald, Senior Director of Programming and Events: stephen@pegasussprings.org.
Sign up today and take advantage of early registration discounts. An opening night dinner is included, breakfast/lunch are provided each day, and 3-day "Park-Hopper" passes are included with each registration!
By connecting and collaborating with students from different schools and regions, the BOLT Leadership Program at Disney provides a memorable experience. By engaging student leaders as integral partners in all aspects of their own education, we hope to provide students a collaborative experience that inspires them to be lifelong learners and engaged citizens.
Quite simply, our goals for education cannot be achieved without the full participation of students.
Watch a video created by BOLT Students from our Winter 2019 BOLT Program: